Blogs related to CS:GO and Faceit Boosting
Usefull and interesting information regarding the everyday counter-strike stuff which you can find out below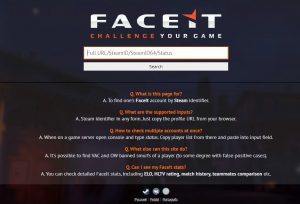 How to find Faceit profile with Steam? Not many online players who are participating in Faceit areas know how to actually find a Faceit profile
Read More »
Here, on the blogs page that is mainly related on improving you as an indidual player is focused on teaching new tips and tricks on faceit platform.
The advantages that you can use on this amazing platform are all find above in our short written blogs. We have mentioned a lot of stuff such as : faceit anti cheat , faceit boost methods , how to improve your configuration and so on.
Faceit boosting is secondary option which you can think about using in case you need that "wind in your back" and to put you back on track.
In faceit boost sessions we have explained many things such as coaching and learning tricks that can always put you one step ahead of your enemies.
We've also explained on how to use popular addons and how to find online faceit profiles that you may want to check for. In these small tutorials you can view all the faceit stats of the targeted player, such as their k/d ratio, average kills and more.
Make sure you subscribe to our newsletter for latest promotions and tutorials that we gonna post on a monthly basis, and they will all be mainly related to faceit platform.